Welcome to the September 2021 update for StackBlitz! There are a lot of great upgrades & fixes in this version that we hope you will like, some of the key highlights include:
New frameworks supported
Database support in WebContainer
DX & compatibility improvements/fixes
Want to try new features as soon as possible? Come join our Discord community and try the latest updates as soon as they are available.
Now, without further ado: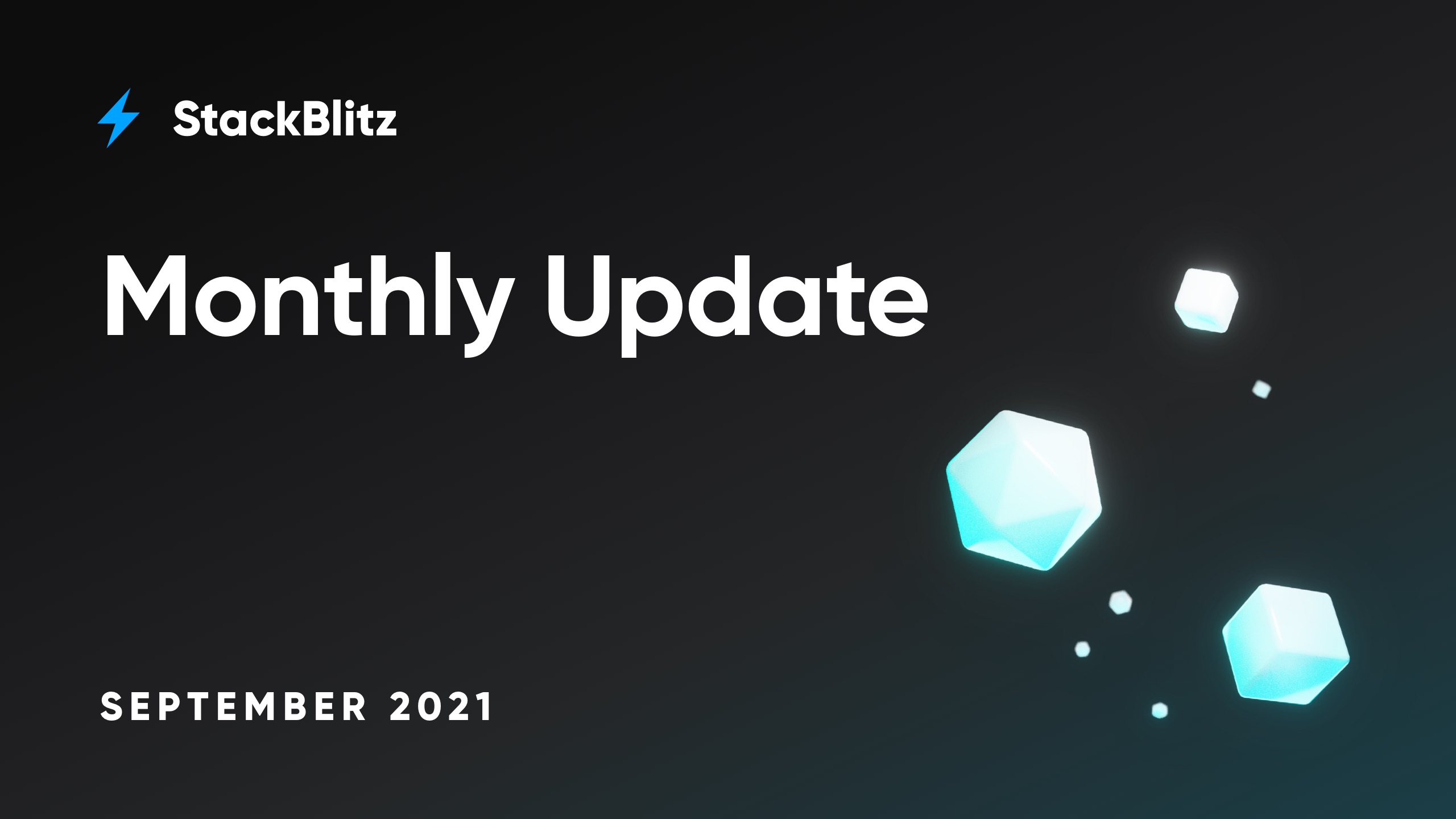 New frameworks and tooling support
DX & compatibility improvements and fixes
Expanded configuration in .stackblitzrc
Added the env property to the .stackblitzrc config file to allow defining environment variables
Added opt-in support for the dynamic imports in CJS by setting ENABLE_CJS_IMPORTS environment variable to true
Editor upgrades
Added zenmode=1 query param support for starting with minimalistic UI in embeds
Added dedicated icons for the .mdx, .astro, .sql, and .sqlite files
Added the Monaco grammar and emmet support for Astro file format
Upgraded Prettier to from 1 to 2.4
Enabled Prettier for more file types, including HTML, Markdown, JSON and Vue
Improved title handling for GitHub importer to better describe imported projects
Shell improvements
Platform upgrades & bug fixes
Improved platform JavaScript performance and reduced bundle size by 6% by compiling for modern browsers only
Fixed issues with forking webcontainer-based projects
Fixed TypeScript language service failing to find files with special characters (e.g. src/app/[id].ts)
Fixed an issue with Turbo not updating package.json correctly
Fixed binary files inference, and added debounce to their upload
Auto-open preview for URLs for port of lower number than the current one. This fixes an issue when e.g. a preview was being displayed for a HMR port instead for an actual app.
Lots of improvements to our documentation – including the Getting Started section
Reduced size of Turbo installations
Thank you!
Last but not least, a huge thank you to all of our community members and StackBlitz core team members who made this month's release possible! ❤️
We have some big announcements coming out over the next few months so stay tuned for the latest on our Twitter @stackblitz and our Discord community. See you there!