tl;dr: Join us October 5th and 6th for a free, online event and learn how teams are building the next generation of the web with Vite. Get your free ticket now!
We're excited to announce that the second ever ViteConf will take place online starting October 5th. We were blown away by the inaugural ViteConf last year as we welcomed over 25,000 members of the community.
Just like last year, the event is free, online, and designed to be immersive and interactive — and this year we're taking it to a whole new level. We'll also be welcoming back some familiar names and are looking forward to sharing some new ones in the coming weeks.
Beyond fast
Since StackBlitz's initial investment in Vite in 2021 and even in the months since the very first ViteConf last October, Vite's growth has been eye popping to say the least.
Vite is now one of the fastest-growing tools in web development and recently exceeded 6.2M weekly downloads 🤯.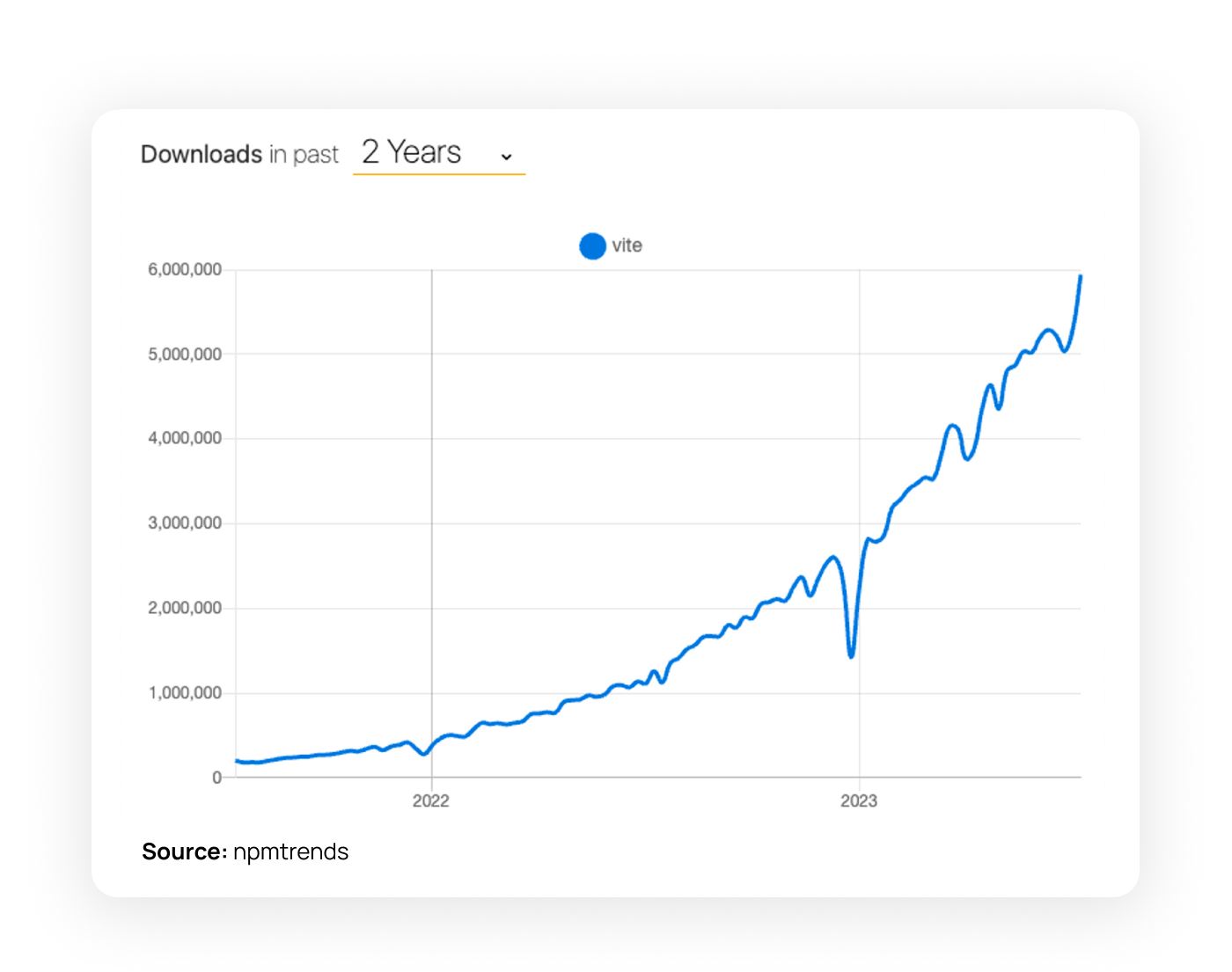 Vite now powers a growing number of open source projects, including many you may recognize, like Nuxt, SvelteKit, SolidStart, QwikCity, RedwoodJS, among many others. We're also seeing Vite and Vite-backed projects being adopted by teams at companies of all sizes, including Google and Netflix.
Vite's journey is still in its early days, but already a vibrant ecosystem of web technologies has emerged alongside a and dynamic community of developers who build them.
The theme of this year's ViteConf is "Beyond Fast." We chose this theme because it's no longer just about developing the fastest tool, it's about creating lasting, effective ecosystems—of both technology and of people.
What to expect
In just under two months' time, ViteConf 2023 will feature:
Presentations from leading community members building the expanding ecosystem of Vite-based projects like Astro, Vue, Svelte, Angular, React, and more
Talks from engineers from leading companies like Microsoft, Google, and OpenAI who are using Vite to build their web applications,
a live panel about open source communities and collaboration (hosted by This Dot Labs)
live keynotes from some very special guests
and special launches and announcements 👀
The conference is free to join, and all content will be presented via an immersive player and embedded Discord so you can connect with presenters and other attendees. Everything will be available online for free after the conference as well.
This year, we're also introducing live dev environments (powered by StackBlitz WebContainers) directly into the ViteConf streaming experience so you can play with the code live while speakers present—a first for online conferences.
To ensure everyone can join regardless of timezone, ViteConf runs for 24 hours with a live 12-hour block that is immediately replayed. Live captions will also be available.
Once again, we are grateful to be joined by several Community Partners who help spread the word about ViteConf and who share our goal of creating a great attendee experience.

See you there!
Tickets for ViteConf 2023 are now available. Grab yours here and don't forget to make it your own by connecting your GitHub account.
We have lots of updates to share as we get closer to October 5, so stay updated by following us on Twitter and Mastodon or by joining us in Discord.